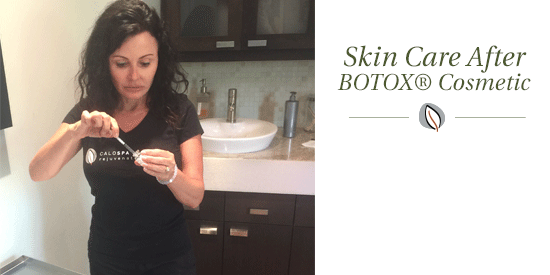 The BOTOX Cosmetic treatment is popular at our Louisville day spa for smoothing wrinkles and creating a more youthful appearance. Many of our patients love it, and the results with continued use can even postpone the formation of future wrinkles. But in addition to the BOTOX treatment itself, we tell our patients that there are a few extra steps you can take to maximize your results, too.
Pair With Dermal Fillers
Injectable fillers can be an excellent complement to BOTOX. The fillers work to restore volume in areas like the cheeks and lips, which can begin to look thin and sunken as we age, and fill in the deep troughs caused by wrinkles. Fillers can even be injected at the same time as BOTOX, allowing us to perform a comprehensive treatment in just one visit.
Receive a Cutera® Laser Genesis Treatment
Interested in the results offered by a laser treatment, but afraid of the downtime? Cutera may be your answer. This treatment treats hyperpigmentation, reduces the appearance of fine lines, and boosts collagen production. It only lasts about 30 minutes, and you can return to your daily activities immediately after, with no downtime. A series of treatments can improve your results over time, and our experienced providers will be able to provide you with a timeline that is appropriate for your needs.
Moisturize and Hydrate
This one is key, and you can do it all from home. Moisturizing your skin with the right products, of course, helps to decrease the visibility of fine lines, prevent flaking skin, and keep skin looking healthy and glowing.
Take Your Vitamin C (Serum)
It's a nutrient you'll find in citrus, of course, but you can also apply it topically. Adding a Vitamin C serum under your moisturizer and sunscreen boosts the effectiveness of the sunscreen and fends fights off free-radicals, which can damage and dull skin. Our favorite? Try the Vitamin C Lotion by Revision®.
Schedule Regular, Consistent Facials
Facials remove impurities, add moisture and nutrients back to skin, and promote the production of collagen. Plus, they'll make your skin glow. Scheduling routine facials will make your BOTOX results look that much better.
Slather on Sunscreen
This is essential, even if you forgo adding any other skin care products to your routine. Sunscreen protects your skin from hyperpigmentation, sun spots, sunburn, the formation of wrinkles, and so much more. Plus, it may help your BOTOX results last even longer! Can't go wrong with that. We love Revision Intellishade® for its ability to blend with skin tone and provide a shine-free, matte finish.
Want to learn more about BOTOX? Check out this blog post  for tips on making the most of a BOTOX treatment.