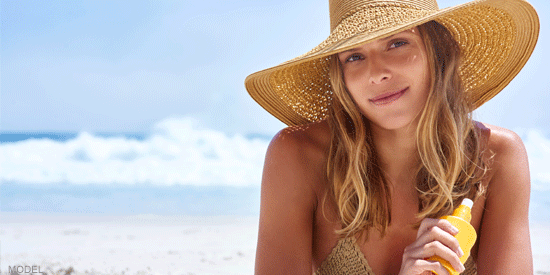 You've heard it before, from your mother, your friends, and the media: Wear sunscreen! With sunscreen as your primary daily defense against signs of aging and issues like skin cancer, you have no excuse not to slather it on. Especially in the summer.
While the labels on some sunscreen products may seem confusing, the staff from our medical spa in Louisville, KY, are here to help you sort out the most important features you should be looking for, like SPF levels and broad spectrum coverage. So take note and check your sunscreen bottles to make sure you have the coverage you need to maintain healthy skin, whether you're poolside on vacation or running errands around town.
SPF Level
SPF stands for the Sun Protection Factor in a given product, and it provides an approximate measurement for the level of protection it will give you from the sun. Its value will mean different things to different people, but no matter what, the higher the number, the greater the protection.
Think of it this way: If you usually start to notice signs of damage to your skin after being in the sun for about 15 minutes, a product with SPF 30 will protect you for about 30 times longer than that 15-minute period – about 450 minutes. Still, it's important to reapply every few hours because sweat, oil, and other factors can diminish the effectiveness of your chosen product.
We suggest reaching for the one with the higher levels of SPF. For daily facial wear, products from SPF 30 and up are effective.
Active Ingredients
There are 2 types of sunscreen: mineral and chemical, each of which contain different active ingredients. Mineral sunscreens often contain zinc oxide and titanium dioxide as their active ingredients. These mineral-based ingredients deflect the sun's rays off of your skin. Chemical sunscreens contain ingredients like oxybenzone and avobenzone. They absorb and dissipate the UV rays within the skin. You may prefer the feeling of one sunscreen to the other, but there are a number of sunscreen options available in each category.
Broad-Spectrum Coverage
Sunlight reaches our skin as 2 types of rays: UVA and UVB. UV stands for ultraviolet and the "A" or "B" refers to the type of ultraviolet ray. While both UVA and UVB rays are known to cause skin damage and cancer, the UVB rays are the ones that cause immediate signs of damage, like sunburn. This means the UVA rays could be doing damage without a clear signal to your body. That's why you should look for a sunscreen product that protects against both, labeled as a "broad-spectrum" sunscreen.
You can take the broad-spectrum coverage a step further and protect against IRA (Infared Radiation A) rays, which penetrate the skin to a much deeper level than UVA and UVB rays. The SkinMedica® TOTAL DEFENSE + REPAIR is a daily use product with SPF 34, and it protects against infared radiation rays to help you stay completely covered.
Pro tip: If you're a fan of BOTOX® Cosmetic, you can reap or use your Brilliant Distinctions rewards points on SkinMedica products like this. It's a win-win!
Water Resistance
Whether you're swimming, exercising, or sweating from the heat, water makes sunscreen less able to protect you – another reason you should reapply every few hours. Check the water resistance level of your sunscreen and make sure you're adhering to its suggestions for reapplication and use. And remember: Water resistant isn't the same as waterproof.
Colored Tint
Many sunscreen products contain a tint to them, so ingredients like zinc oxide don't leave you looking pasty white. Check to make sure the product you grab has the right tint for your skin tone so it blends well with your color. We love the Revision® Skincare Intellishade products because they pack SPF and hydrating benefits into a lightly tinted product with a matte finish. It works on all skin types and it's lightweight, so your skin won't feel bogged down with product. What more could you ask for?
Moisturizing Ingredients
Some sunscreen products come blended with a moisturizer, keeping your skin hydrated as it protects from the sun. This makes things a lot easier when you're traveling or loading up a bag for the pool. Check the label to make sure words like "moisturizer" or "moisturizing" are included, and test them out to see how your skin reacts before nixing your existing hydrating products altogether.
There are lots of sunscreen options to choose from, so make sure you're purchasing quality products that will help your skin stay healthy, not dry it out or leave you with a burn. Take this checklist with you to the store, or contact us about coming in to discuss your skincare options here at CaloSpa. We'll help you figure out which products are going to be the best fit for your lifestyle and skin type.
Looking for more? Learn some of our favorite summer skincare products in this June blog post!