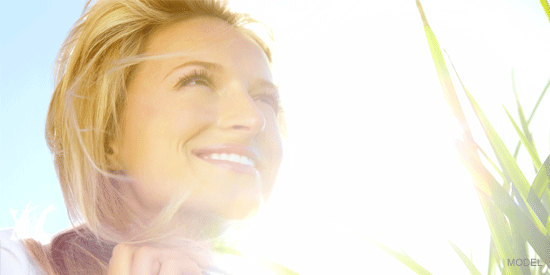 Hello there, summer! It's nice to have you back. The heat is here, and we love the season and all of the fun events and gatherings that come with it. Whether you're in a wedding, headed to a concert, or just want to look fresh for drinks with friends, we want to help you check "gorgeous skin" off your to-do list.
We've called on some of our staff to share some of their favorite skincare products and treatments, from BOTOX® Cosmetic and laser rejuvenation to sunscreen and serums from our Louisville and Lexington locations. Which one are you most excited to try?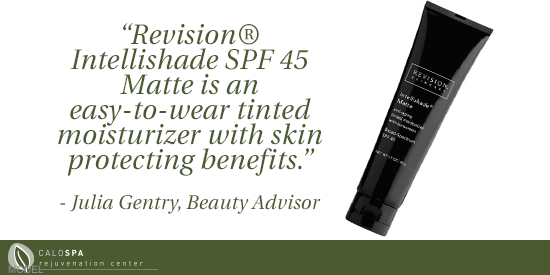 1. Revision Intellishade® SPF 45 Matte: First, if you're not wearing sunscreen and reapplying it throughout the day, you should be. Sunscreen is your first line of defense against aging and the damaging effects of the sun's rays. This product is a sunscreen combined with a moisturizer, so you can pack fewer products for the same benefits. Perfect for traveling.
"My favorite product for summer is Revision's Intellishade SPF 45 Matte. This product is an easy-to-wear tinted moisturizer with skin-protecting benefits. Intellishade protects and corrects the skin, and it also hydrates and reduces the appearance of fine lines and wrinkles. The SPF 45 and antioxidant blend protects the skin from premature aging from the sun, the Vitamin C helps to brighten the overall complexion, and the matte formula helps to reduce the appearance of larger pores." – Julia Gentry, Beauty Advisor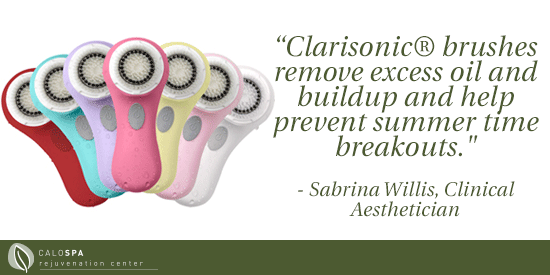 2. Clarisonic Brushes: Clarisonic provides a variety of brush types for both men and women. Use the brushes in your T-zone and cheeks for soft, exfoliated skin. Our skincare experts will be able to help you determine which brush is the best fit for your skin type and skincare routine.
"Clarisonic is the best during the summer. It removes excess oil and buildup from reapplying sunscreen and helps prevent summertime breakouts." – Sabrina Willis Clinical Aesthetician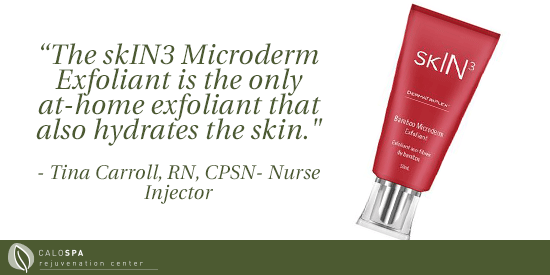 3. skIN3 Bamboo Microderm Exfoliant: "This is my summer favorite because it is the only at-home exfoliant that also hydrates the skin." – Tina Carroll, RN, CPSN, Nurse Injector
Keeping buildup out of your pores with a gentle exfoliator is the best way to keep skin glowing and healthy between skincare treatments. The natural bamboo ingredients in this product will help reveal beautiful, healthy results.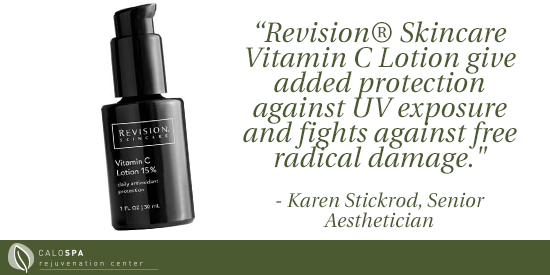 4. Revision Skincare Vitamin C and our Cutera® Laser Genesis Treatment: Combining the right products and treatments is the best way to get the most benefits out of both (and a better bang for your buck). These 2 products work together to treat skin damage, restore skin health, and prevent further damage from occurring.
"Revision Vitamin C is important all year long, but especially during the summer. It gives added protection against UV exposure and fights against free radical damage. Laser Genesis is the perfect laser for summer. It's colorblind, meaning it is safe for all skin types. Laser Genesis can diffuse redness and improve skin texture and pore size, while stimulating collagen production." – Karen Stickrod, Senior Aesthetician
Ready to find out which of these products will be the best fit for your skin type and routine? Drop into our practice at any time, or give us a call to schedule a skin care consultation. We'd love to meet with you in person and help you find the right products to treat your needs. Request your consultation online or by phone at (502) 814-3000 in Louisville and (859) 269-2256 in Lexington.