Whether you've already decided on having a NeoGraft hair restoration treatment or you're still considering it, we're always excited to talk to our Louisville and Lexington patients about it. The treatment is often a long-awaited solution to hair loss, and the results can be transformative. Here's Dr. Calobrace's take on the treatment.
So what can you expect during your NeoGraft hair restoration treatment at CaloSpa? While the treatment process will vary slightly for each patient and their needs, it'll look something like this.
1. Patient arrival and numbing: When you arrive, one of our doctors will meet with you to discuss the treatment process and make sure you're comfortable. You'll receive numbing injections into your scalp area to alleviate any discomfort caused by the treatment. These injections are performed with a very small needle, so you'll feel little to no pain. Those injections will kick in after about 20 or 30 minutes, and we'll begin the treatment whenever you're ready.
2. Harvesting hair follicles: The first part of the treatment requires the hair follicles to be removed from the donor area of the scalp, which is the area with greater density of hair. The NeoGraft instrument will gently remove these follicles in small clumps.
3. Lunch and restroom breaks: After the follicles have been removed, we may take a break for snacks, lunch, or restroom use. While the entire NeoGraft process does take a few hours from start to finish, it's easy to take short breaks throughout as needed.
4. Placement of hair follicles: Once you return from the break, we'll start placing the transplanted follicles into the treated area. The NeoGraft instrument will create tiny, microscopic incisions in the scalp and then automatically place the transplanted follicles. These incisions will create very minor bleeding, which will subside quickly. The incisions are so small that they will not require any sutures, and they naturally heal around the new follicle. As you can see in the after picture below, no scars are visible in the treated area.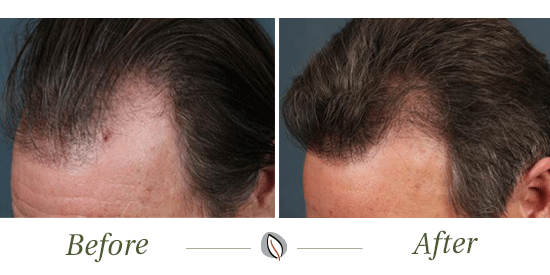 5. Downtime after treatment: We'll provide you with information on scalp and hair care after your treatment. However, it's important to know 2 things: First, you cannot wear hats or wash or brush your hair for a few days after the treatment. The transplanted hair follicles will need to become established in their new locations, and these activities can aggravate and even displace them. Second, be aware that you may experience some minor swelling and itching. These symptoms are normal, but it's critical that you do not scratch or irritate the area as those new hair follicles develop.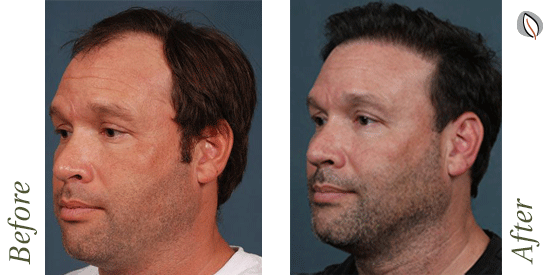 Patients of all ages and walks of life have benefited from the NeoGraft treatment. Whether you'd like to treat a receding hairline, baldness, or other concerns, we can talk together to determine the approach that provides the results you desire. You can see some more examples on our gallery of before-and-after photos.