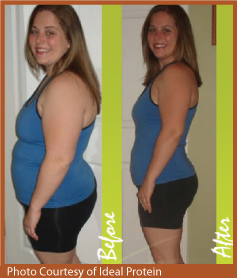 Here we are in the first month of the New Year.  I believe at this time we reflect back on the past year and look forward to the new year ahead of us.  Today I find myself thinking about weight loss, Ideal Protein and how they have given me a deeper gratitude for those who have conquered their weight loss struggles as I once did.
Reflecting  back on my own weight loss has enabled me to have a better prospective and understanding for those who have had  the same struggles.  I am reminded of the daily challenges associated with weight loss like  hunger, fatigue, mood swings and did I mention…HUNGER!?  I understand that maintaining your weight takes a lot more than a fad diet.  I learned very quickly the difference between dieting and educating yourself  through a maintainable weight loss program like Ideal Protein.  Looking back at some of the amazing success stories of our CalsSpa patients, who have been able to obtain their weight loss through the use of Ideal Protein, has made me so grateful to be a part of each of their journeys.  Not only did these patients achieve their goals but they have been able to maintain their weight loss to this day.  These patients now understand their individual struggles and what it takes to maintain their own success and I a proud of each and every one of them.
Lastly, I find myself eager to continue helping our existing patients reach their goals and find success. Rewarding weight loss begins with education, Ideal Protein, and motivation.
I have to tell you all that  when I first started this blog I headed straight to the tag line, "What is your New Years Resolution and Where do you see yourself in the New Year"? I do think these are appropriate questions to ask ourselves but weight loss is so much more than that. You are so much more than that.
CaloSpa, is an independent authorized clinic carrying The Ideal Protein Weight Loss Method. To learn more, visit www.idealprotein.com
Visit CaloSpa Events for Ideal Protein Event Dates
Happy New Year!
Karen Stickrod, CaloSpa Ideal Protein Health Coach