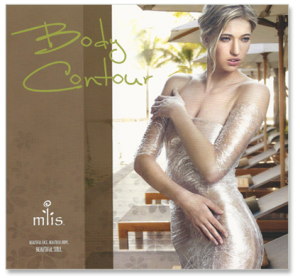 The warmer temperatures are just around the corner, now is the time to start thinking about how we want to look in our shorts, sundresses and bathing suits. One of the best accessories for spring is a strong, smooth and sexy body.
M'lis wrap helps rid the body of unwanted cellulite. This wrap was created by a Biochemist from UCLA originally formulated to help with stimulation of circulation and lymphatic flow for those suffering from Diabetes or any disease that inhibits circulation. What they discovered was that because of the increase flow of circulation, the patient would experience not only internal cleaning but external benefits that resulted in diminished cellulite through cleansing of the tissue.
Cellulite is a toxic body condition. In order to permanently eliminate cellulite, you must start at the source of the toxic body and detoxify internally. Toxins stored in the colon are carried into connective tissues, where they are deposited, forming cellulite. Causes of cellulite formation include imprisonment of waste material, toxic body and lifestyle, water retention, resulting in slowing down of the body's waste removal system, hardening of the connective tissue, lack of blood, lymph and water flow through cellulite prone areas.
The treatment will start with your Louisville spa provider exfoliating the skin to rid the body of dead skin cells, to prep the skin for contouring cream. The cream is then applied over the body. This is when the lymphatic and circulatory flow is stimulated. The body will begin the removal toxins through the circulatory system and through the Kidneys.  After the cream is applied you'll be wrapped and placed on the massage table for about 45min. This treatment is very relaxing on its own, however, this is a time you may also add a service like a Hand,  Foot and Scalp Treatment along with your wrap.
For best results a series of 3-6 body wraps is recommended with 4-7 days between each wrap. This is not a weight loss, but a permanent cellulite loss. The cellulite will only return if the client goes back to old habits. Eating the right foods, exercise and drinking 8 glasses of water per day are always recommended.
Amy Green, CaloSpa LMT
Interested in learning more about M'Lis Body Contour Wraps? Call (502) 814-3000 to speak with a CaloSpa service provider.