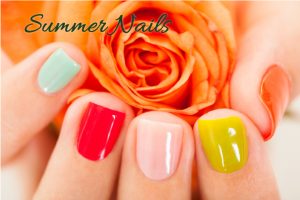 Who says fingernails and toenails should match? That's not a rule. Some people, like myself, never match. I love to think of my nails as an accessory. One of my favorite looks for the summer is a lighter shade polish on my nails and a deeper one in the same shade on my toes.
Metallics are no longer considered festive or Holiday-ish. They can be fun and the summer. You can layer them over any color, our use them under colors. Yes, under colors it gives them an extra punch.
Neutral colors don't have to be boring. Think milky whites, beige, and opaque pinks. These colors are beautiful for the warmer temperatures. Especially for all the colorful sandals we wear.
Nail art is also very popular, from decals, glitter, ombré, and studs. Let's not forget the accent fingernail. That is the ring finger done in a different color from the other nails. I have had clients request a different color on every nail.
What will you wear this summer?
Dee Miller, CaloSpa Nail Technician