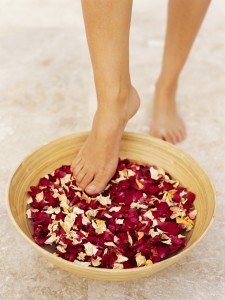 Score the hottest mani and pedi under the sun!
Shaping Up
When on vacation, keep everything easy, including your mani and pedi. While almond shaped nails are popular, the shape that works best for you can be determined by looking at your own nails. For a shortened, natural nail it depends on the shape of your nail bed. You should stick to what fits your hand. It's about what works for you.
Length Factor
Gels are popular at
our spa in Louisville
.  Gels can easily go on your nails and help them grow out to where they're a nice active length. You want pretty hands; you want your nails to look beautiful? Go for a good active length without them being over-done.
Vacay Tool Kit
When packing up for your relaxing summer getaway, remember to pack a topcoat refresher. After you've gotten a manicure, by day three, apply a topcoat to extend the life of the manicure. Also have a fine nail file on hand. If you chip or snag your actual nail, shaping it out will save the nail from being pulled off. To ensure you're using the right nail file, for minor touch-ups, I suggest opting for a high-grit (meaning a smoother and finer) nail file. "It has to be more than 200 grit. If you see a file that's bumpy , that means it's low-grit." I also recommend using cuticle oils to keep your hands and cuticles hydrated. And, for those fabulous feet, they usually take good care of themselves much longer than your hands will. Just have a good moisturizer for your heels.
What Else?
Taking a long vacation? No worries, there are plenty of manicure and pedicure options that will last with the proper maintenance. "A gel manicure is usually what we recommend. It can last the duration of the trip." Go with an easy gel manicure. Then, you can go back to regular manicures after vacation.
Nail Technician
Dee Miller