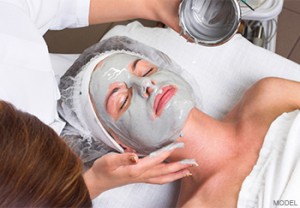 What's for lunch? We've got something great on the menu at our day spa in Louisville, KY that will give your skin a glow and leave you feeling refreshed. The ZO® 3-Step Stimulation Peel exfoliates, brightens, and firms the skin with no downtime. We think it's the perfect "lunchtime" peel.
This treatment combines 3 fruit and milk acids, plus powerful concentrations of active ingredients to exfoliate the skin, stimulate collagen and elastin growth, and smooth wrinkles.
We'll start your treatment by micro-polishing your skin before it's prepped for the peel. We then apply the gentle but potent peel, and then we wrap things up with a neutralizer and application of ZO's Ossential® Growth Factor Serum that's clinically proven to stimulate the skin's repair process. Last, and certainly not least, we'll rub sunscreen onto your skin. Your treatment also includes a mask of your choice, targeting hydration, acne, or skin brightness.
Our aestheticians can also recommend skincare products from the ZO line or others for you to use at home to extend the results of your peel. The peel can also be repeated in quick sessions at our office every month or so to help you maintain a beautiful, youthful glow.
Cathy Caperton, CaloSpa Aesthetician