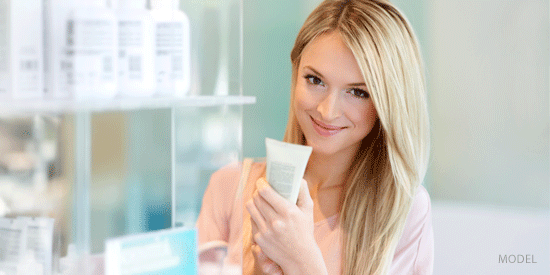 The seasons are changing and before we know it, we'll be trading scarves and sweaters for T-shirts and shorts. The change in wardrobe and temperature may also bring a change in your skincare routine. Whether you're swapping your dense winter moisturizer for something lighter or including an acne treatment to keep breakouts at bay, it's important to learn how to make the most out of the products you use — especially if you've invested in high-quality, medical-grade products.
I'm passing on a few tips from the aestheticians of our med spas in Louisville and Lexington, KY for applying, storing, and managing products so you can get the best results possible.
Apply as Directed
One of the easiest ways to make the most of your products is to apply them as directed on the product label. Apply directly to clean, dry skin with clean hands. Move from the top of your forehead in a downward sweeping motion, and from the sides into the center of your face. One pump is all you need of most products, especially medical-grade products that are potent and powerful, so a thin layer will do the trick. Don't get product-happy and slather on too much! Use only the amount recommended by the instructions or, better yet, your skincare provider.
Store in a Cool, Dark, Dry Place
Beauty and skincare products, especially medical-grade ones, all contain a delicate balance of ingredients that can be effected by external elements. While some skincare products come in dark or colored packaging to protect the ingredients from light, you should still do your best to store all products carefully. The best place is in a cool, dry, dark cabinet away from a sun-lit window or mirror.
Use Clean or New Tools
It's easy to forget about tools, yet they're one of the most important pieces of your skincare regimen when both applying and removing product from your skin. Replace applicator sponges at least once per month, if not more. Applicator brushes can be replaced once every few years, as long as you cleanse them routinely in between. Brush cleansers can be found at many cosmetic and beauty stores, and most require just a few pumps of solution and some lukewarm water. When removing product, use clean cotton swabs or washcloths to make sure you're not adding old debris and bacteria to your skin.
Check the Expiration Date
Do you know what that little number in the shape of an open jar on the backside of your product means? This number indicates how long your product will last after it's been opened. Typically, this time period is measured in months, so the number 18 would mean it'll last you 18 months. Toss or use up products before that time to get the best results.
When in Doubt, Throw It Out
Not only do products have expiration dates, but they can go bad due to external factors like exposure to sunlight, air, or age. If you're not sure how old something is, or if it's been overused, just replace it! It's not worth risking major skin irritation that sets back your progress or worse, a skin infection.
Curious to learn more about the right products for each season? Request a skincare consultation with one of our aestheticians at CaloSpa. They'll be able to help you diagnose skin issues and suggest medical-grade products to help treat and manage them, no matter what season we're in.