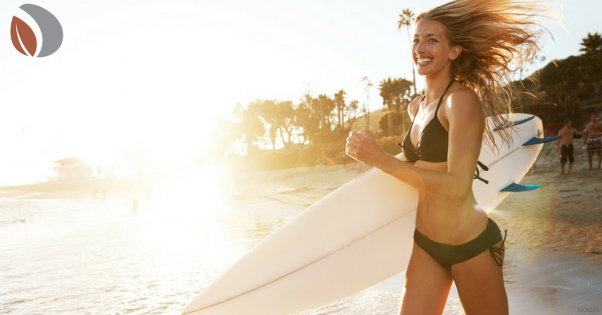 With spring break just around the corner, many of our patients are coming into our med spas in Lexington and Louisville for nonsurgical treatments to get them ready for swimsuit season. In this post we'll suggest some popular options that can help you get the body you want before you head to the beach.
CoolSculpting®
CoolSculpting® is a noninvasive treatment for fat reduction. It uses precise cooling to eliminate fat cells without damaging other tissues. It can treat the abdomen, back, thighs, double chin, and flanks.
Because it doesn't involve anesthesia or incisions, there is no downtime or recovery period required. The treatment only lasts about an hour so many patients come between classes or on their lunch breaks, then return to their normal daily routine immediately after.
Following treatment, your body will begin its natural process of breaking down and flushing out the fat cells. You will typically see your final results after about 2 to 4 months, so we recommend scheduling treatment soon if you want to be ready by spring.
truSculpt®
The truSculpt® procedure treats stubborn fat deposits and dimples using radiofrequency energy for noninvasive, painless body contouring. The process involves delivering radiofrequency energy to the subcutaneous fat which disrupts the fat cells and strengthens and thickens the skin—all while maintaining a comfortable skin temperature.
Like CoolSculpting, treatment lasts about an hour and you may return to all your daily activities—including the gym—immediately after the session.
A few weeks after treatment, patients notice smoother contours and fewer dimples over their abdomens, thighs, buttocks, and other areas. If you maintain a steady weight and continue living a healthy lifestyle, your trusculpt results can last indefinitely—spring break after spring break.
Cellfina™
Cellfina™ is a minimally invasive treatment that improves the look of cellulite for up to 2 years. The treatment session only lasts about 45 minutes. It starts with application of a topical numbing cream followed by the use of a tiny microblade to release the fibrous connective bands that cause the dimpled appearance of cellulite.
After treatment, patients can continue doing errands and light activities. However, we recommend that you take it easy for the first 24 hours—it is not uncommon to have slight soreness. Patients begin to see improvements after about 3 days, so there's still time to get smoother before your vacation.
BOTOX® and Dermal Fillers
A common misconception is that BOTOX® and dermal fillers are reserved for older patients. On the contrary, they can be a great way to rejuvenate and refresh the face at any age. As a student or young urban professional, stress and lack of sleep are the norm. This can accelerate the formation of fine lines, wrinkles, and cause the appearance of fatigue.
BOTOX can treat fine lines and wrinkles, and also help prevent wrinkles from forming in the first place. We also offer dermal fillers including JUVÉDERM®, Restylane®, RADIESSE®, and Sculptra® Aesthetic. These fillers can provide volume to the face and lips and reduce signs of premature aging.
It doesn't take long to see the results from injectables and there is minimal recovery time. And even if you wait 'til the last minute to start shaping up for spring break, these treatments will ensure that your face has a healthy glow even before you hit the beach.
If you are interested in any of these nonsurgical treatments or want to learn more about your options, request a consultation online or call our Louisville location at (502) 814-3000 or our Lexington location at (859) 269-2256.