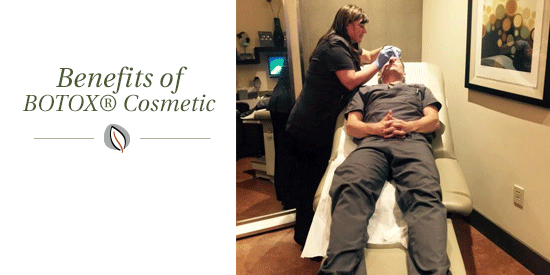 BOTOX Cosmetic is most famous for its ability to smooth out wrinkles in areas like the forehead and crow's feet, creating a more youthful, relaxed appearance. But there's a lot more to it than that. BOTOX has some more versatile benefits you may not be aware of, including the treatment of excessive sweating and migraines. But even for facial rejuvenation, many patients report little unexpected bonuses from a treatment session. Here are some of the most popular benefits we hear about from BOTOX patients at our medical spas in Louisville and Lexington, KY.
Smooths skin for easier makeup application: By reducing the contraction of even very small muscles in the treated area, BOTOX can help make the application of makeup much easier and smoother. It will also help stop the collection of foundation, powder, and shadow within those fine lines, for a more flawless appearance, all day long.
Prevents future wrinkles from forming: BOTOX treats wrinkles in 3 key ways: reducing the appearance of current wrinkles, smoothing out existing fine lines, and helping prevent the formation of future wrinkles.
Can provide a slight brow lift: When BOTOX is used on the forehead area, it inhibits the movement of the muscles that cause wrinkles. An ancillary benefit there: It can cause them to hold firm in just a way that you may receive a slight brow lift. Many patients love how this can make them appear more awake and refreshed without perpetuating the contraction of the forehead muscles.
Can provide a slight lift to the smile lines: Following the same principle behind the subtle brow lift, they may also see a lift to the smile lines when the treatment is placed in the area around the mouth. This will help to lift the jowls slightly, and prevent a resting face that appears to be unhappy.
Reduces the appearance of looking "angry" or "unhappy": A common use for BOTOX is in the forehead, where continuous contraction can create the appearance of deep wrinkles between the eyebrows. These lines, also known as the "angry 11s" make some patients feel they look unhappy or annoyed all the time, even when they're not at all. Placing BOTOX in this area is a great way to prevent that grumpy appearance and help a patient appear more relaxed.
Dr. Calobrace himself is also a big fan of BOTOX, so he can attest to its results and benefits. You can see him in the picture above receiving treatment. As we mentioned, benefits from this treatment can depend on the areas where the product is placed. If you'd like to find out more about how BOTOX can help you achieve smoother skin and a fresh, renewed appearance, we'd love to meet you for an in-person consultation. You can visit us online, or leave a comment here and we'll reach out.
For those who already love receiving regular BOTOX treatments, have you experienced any of these benefits as well? How about any we forgot to mention here? We'd love to hear so we can share them with our community. Please share your experiences in the comments below.