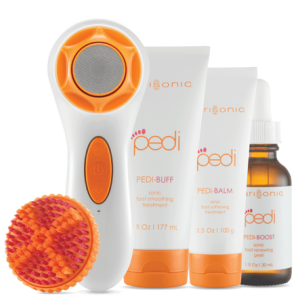 It's the middle of winter, and we're all wearing wool socks and stuffing our feet into boots. So why am I worried about a pedicure? Well, this is also gift-giving season, and I've got my eye on the new Clarisonic® Pedi Sonic Foot Transformation System. Spring will be here before you know it, and your feet will be sandal-ready if you pamper them with this system. It's definitely worth a trip to our day spa, whether you're in Lexington or Louisville.
The Clarisonic pedicure at-home kit comes with just about everything you'd want to give you the perfect feet. Start with a massaging brush that can be exchanged for a disk that smoothes away rough edges of your skin. The kit also includes a cleansing scrub, a hydrating balm, and a glycolic and lactic acid peel.
Clarisonic brushes are recommended by the best dermatologists and aesthetic specialists in the country because of their gentle but effective technology. This one is waterproof for use in the shower and is rechargeable so you don't have to worry about changing batteries.
This is a wonderful gift to pamper yourself or a loved one with this season, and it will keep your feet soft and lovely year-round, especially as the brush comes with a 2-year warranty. This lightweight tool is also perfect for people on the go. Stop spending so much time scraping and scrubbing at your soles, and instead pick up a Clarisonic from our spa.
Cathy Caperton, CaloSpa Aesthetician