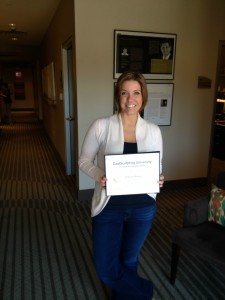 Spring is almost here which means now is the time to come in and educate yourself on Coolsculpting and if it's right for you! My name is Brittany, and I have been part of the CaloSpa family since 2007. Over the years I have been very fortunate to learn about all the different aesthetic and cosmetic procedures we offer.What I have learned the most is that the  cosmetic industry only continues to grow with more fascinating technology and techniques to help us serve our patients with nothing but the best. I am pleased to announce that I have recently completed an extensive training at the Coolsculpting University in Pleasonton, California this past weekend.
Coolsculpting is a revolutionary, non-invasive no down time fat reduction procedure that will leave patients with natural looking results. Whether you are looking to "de-bulk" or just get rid of that stubborn little bulge that just won't go away, with the right treatment plan Coolsculpting can help you achieve the results you are looking for. Coolsculpting has been in our Louisville Medi Spa practice for about two years now, but more research and practice has helped immensely as we thrive to learn all the new ways to take our treatments to the next level. When Coolsculpting was FDA approved in 2010 we were eager and excited to treat patients and help them achieve their goal with getting rid of that stubborn fat in areas such as the abdomen and flanks. At and during this time we saw great results with the tools we had been given, but with that being said we continued to ask ourselves how can we achieve even better results? With new tools and techniques I'm ecstatic to inform you that we can now not only get rid of stubborn areas of fat, but we can transform your your body to help you achieve the results you truly desire.
The CoolSculpting treatment uses controlled cooling that only targets fat cells to help eliminate unwanted fat safely and efficiently resulting in natural results that are beautiful and last but not least, permanent! Yes, the results are permanent! Once the fat cells are safely affected during the treatment the body naturally eliminates them over the next several weeks leaving you with undeniable results without any down time. If you or someone you know might be interested in achieving that beautiful hour-glass figure or defining and ecsentuating a more masculine shape then call us today to schedule a consult and see if treatment to transformation is right for you!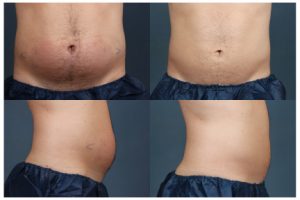 Actual CaloSpa Patient
"If I could describe my CoolSculpting experience in one word, it would have to be: WOW!" J. Cox