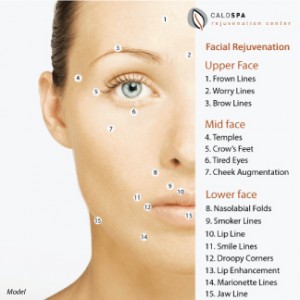 As we age,  our faces start to lose volume. The youthful round contours of our face become flat causing skin to sag.  Jawlines take on a different shape. We look in the mirror and ask "where did my cheeks go?"
A lot of people also work very hard at maintaining a healthy figure with diet and exercise only to find that it exasperates the aging process in our face. Do you like the face you had 15 pounds ago but don't want to gain the weight back? No worries, we can help.
Fortunately with the wide variety of injectable fillers available we can lift, support and restore facial contours. Modern injection techniques allow us to sculpt the face, lifting cheekbones and defining jawlines. Tear troughs, lip lines, naso-labial folds and marionette lines can also be treated to enhance your procedure. Botox injections can be done at the same appointment for your convenience.
CaloSpa was excited to add a new product to our filler family this past December. Voluma is the first product approved by the FDA to treat age related mid face volume loss. We are seeing great results with it alone and in combination with other products.
Injections are done in office by a Certified Expert Injector. All of our injectors have years of experience.  Your evaluation and procedure will be customized for you as we understand everyone is unique. Downtime is minimal and you can resume most regular activity immediately.
Whether you are just curious or  you know you want  to proceed with treatment, call CaloSpa for an appointment at  (502) 814-3000.
Don't accept gravity, DEFY it!
CaloSpa Nurse Injector
Tina Carroll