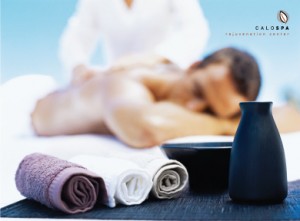 With Valentine's Day fast approaching us you maybe once again faced with the dilemma of what to get that special someone in your life. There are always the typical Valentines gifts such as a special card, some chocolates, or flowers. If you are looking to bring it up a notch, celebrating this day of romance with a Calospa Couples Massage maybe just what you're looking for. This type of massage allows couples to reconnect and to get a little closer which can enhance intimacy.
You and that special someone will experience your massage together in the same area with a therapist provided for each individual. This is an opportunity to either speak with each other during the massage or to tell each other how much you are enjoying your special time together as well as maybe to even compare past Valentine's Day experiences. Even just to laugh together or to be silent together and experience the moment as one.
You will feel the stress and cares of the day melt away as you indulge in our signature, warm stone, or deep-tissue massage with a choice of a 50 minute or 80 minute sessions.
Our signature massage provides relaxation, improved circulation, and relief from muscle tension as well as decreasing your stress levels. With a little aromatherapy added for your pleasure.
Deep tissue massage will help to repair injured and over stressed muscles, leaving you feeling rejuvenated and elevating your feeling of relaxation. It is a massage that produces more lasting results.
Warm stone massage involves the placement of preheated Stones around and on the body which encourages blood circulation and encourages a sense of relaxation that must be experienced to understand.
After your treatment you can rest in our relaxation area while sipping on champagne and enjoying a cheese and fruit tray together.
Make this a Valentine's Day To Remember. However, if you wait too long to book your appointments for this special day you will be searching the grocery stores for cheap chocolate and stale flowers. We look forward to seeing you soon at Calospa.
CaloSpa Massage Therapist
Cindy Richmond
Visit CaloSpa Specials for other great gift ideas for Valentine's Day.