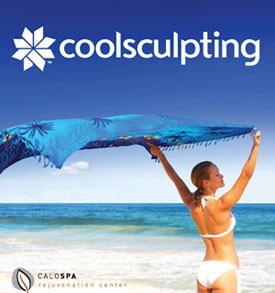 CoolSculpting™ freezes away body fat and provides lasting results. It does so by infusing specific areas of the body with controlled cooling, ultimately decreasing the number of fat cells in the treated area. It's a breakthrough technology in fat reduction, and gives patients an option that is non-invasive. The process targets unwanted fat cells in selected areas of the body and causes a noticeable reduction in fat bulges.
The procedure involves a certified CoolSculpting™ Technician positioning the device under the supervision of a board certified facility. The patient will feel the initial pulling of the skin as the device surrounds the fat bulge with two cooling panels that freeze the fat cells in the targeted layer of fat. When the fat cells are exposed to the extreme cold, they begin to crystallize and die. Over time, the fat cells continue to break down and are flushed from the body, resulting in a contour change in the treated area.
CoolSculpting™ is a dream come true for patients looking to eliminate pockets of stubborn fat. The procedure lasts one to two hours, which patients can spend reading, working on their laptops, or relaxing."
Patients start to see results several weeks after the treatment, and full results are typically seen within two to four months of the procedure. Fat cells are permanently eliminated after the process, and patients can maintain results with exercise and a healthy diet.