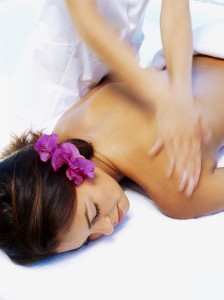 Massage isn't your only option on the menu at Calospa. You can also choose between two body treatments. Calospa offers a detoxifying/cellulite wrap and a body polish. Both are great treatments to gear your body up for spring.
What you can expect during your 50 minute body polish.
A body polish is an exfoliating treatment to eliminate dead skin from the body.  The treatment is applied by hand while lying on a heated table.  Your therapist will use a light  but vigorous technique to scrub each area gently.  The cleansing body polish is a blend of soothing  green tea and stimulating lemongrass. While relaxing through your service the room is filled with an intoxicating scent that is impossible to ignore.   After your therapist has finished both sides of your body, you will then rinse away the polish in a warm shower. After you shower your skin will feel like new and your skin is now  ready to be hydrated. A rich body soufflé is massaged  softly into the skin.  The service leaves you feeling refreshed and your skin  glowing.
What you can expect during your detoxifying body wrap.
This treatment is designed to help eliminate toxins from your body by stimulating your lymphatic system. Because your lymphatic system is targeted this wrap is also great for cellulite. We recommend a series of 4 to 6 appointments if you are using it as a cellulite treatment. The treatments are done no less than 4 days apart and no more than 7 days apart. Your therapist will begin the service with a stimulating exfoliation that is wiped away using a dry towel. Mlis Body Contour Cream  is applied and you are then wrapped in plastic wrap for an hour. During that time you can simply relax or add a 30 minute hand foot and scalp massage to your service. Once your hour is completed the plastic is taken off. The contour cream should stay on your skin for another 4 to 6 hours after treatment to get the maximum benefits. Due to the detoxifying benefits this treatment is a great way to kickoff your spring cleanse. Drinking a lot of water before and after each treatment is  important for maximum results.
Note: If you are losing weight it is recommended that you have a wrap for every 7 to 10 pounds lost to help with your skins elasticity.
Leslie Huddleston LMT