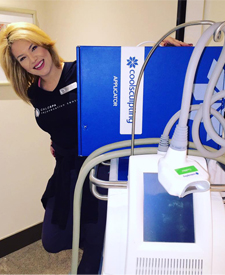 By now you've probably heard about CoolSculpting, whether it was from our medical spa here in Louisville, KY, a celebrity like Molly Sims who received the treatment, or an article in Allure. This nonsurgical treatment is used to treat tricky areas of unwanted fat that so many of us have.
On your flanks, under your chin, on the belly — wherever unwanted fat pockets linger, CoolSculpting can probably treat it. It works by targeting and freezing fat cells while leaving skin and other healthy tissue cells alone. Those fat cells then die off and removed from the body through natural processes. Over the last few years since it became FDA approved, it's grown dramatically in popularity.
But before you jump to booking a consultation for the treatment, there are a few things we'd like you know ahead of time to help you prepare for the treatment and make sure there are no surprises along the way.
The "Stick of Butter" Is a Real Thing
There are a variety of CoolSculpting applicators that are used for different treatment areas on the body. For example, we'll use a different applicator for submental fat underneath the chin than fat on the lower abdomen. The treatment proceeds using the same principle though: suctioning fat into the device and holding it there, freezing the fat in the area to be treated.
Immediately after removing the applicators, we often hear the same reaction from patients: "My fat looks like a stick of butter!"
Because the applicators are generally rectangular, your treated skin and fat take on a similar shape, yielding a temporary "stick of butter" look. You can see one of these applicators on top of the machine in the picture with Brooke, above. But don't worry! Your CoolSculpting practitioner will immediately massage the area out, and the shape of the fat will return to its prior contours within a few minutes.
There Will Be Some Soreness
We're not going to sugarcoat it: Many patients feel some soreness around the treated area for 1 to 3 days after treatment. The feeling is often compared to the soreness of muscles after an intense workout. However, an over-the-counter pain reliever such as ibuprofen is generally sufficient to reduce the discomfort.
You Can Return to Your Day-to-Day
One of the benefits of this treatment is that patients are only in the office for a total of 1 to 2 hours. Many of them even come in on their lunch break and eat while they're receiving the treatment! Because CoolSculpting doesn't require any anesthesia, incisions, or injections, the downtime is minimal, and most patients return to their daily activities immediately after. A few patients have said that because of some soreness, they chose not to exercise for a day or 2 after the treatment. Otherwise, you can go to work, run errands, and spend time with friends and family, as you would on any other day.
Results Will Improve Over Time
Though many of the treatments offered at our medical spa have immediate results, such as facials and dermal fillers, the results of CoolSculpting will take longer to emerge. Some patients have seen results in as little as 2 weeks, while the most significant results surface between 2 and 6 months after the treatment. Why? CoolSculpting triggers a natural process that gradually removes dying fat cells, and that takes time. Ultimately, your results may continue to improve up to 6 months after final treatment. In the before-and-after image below, you can see how the final results reward your patience.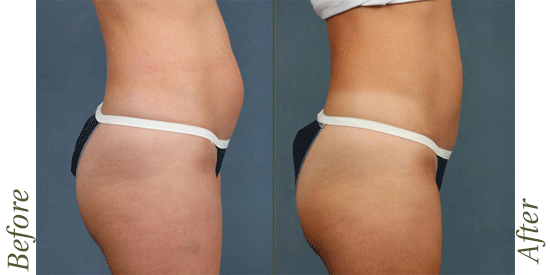 You May Need 2 Treatments
Many of our CoolSculpting patients see the results they were hoping for after just 1 treatment. But depending on the area being treated and the results you desire, you may benefit from 2 or even 3 treatments. When you come in for your consultation with one of our practitioners, we'll be able to help you determine what treatment course may be best for you. We truly want you to have the best results possible!
Check out this video, where Dr. Calobrace explains how CoolSculpting continues to prove its versatility over time.
For more information, you can also visit our CoolSculpting page, where we've discussed the treatment in more detail, with before-and-after photos from past patients.