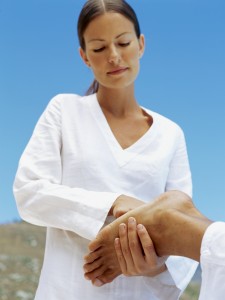 Think about everything you do in a day. How many steps are you taking? If you take the time to calculate I'm sure you would be amazed by how many miles we can walk in a day's time . Those miles can  add up over weeks and months .  Do your feet ever feel tender, painful, or just tired? If so,  I have the solution you need. I recommend trying a reflexology massage treatment.
Reflexology
is  a noninvasive , natural  massaging technique that has been used for centuries in many different cultures all over the world. What is reflexology, exactly, and how does it work ?
Reflexology is a therapy in which pressure is applied to specific small area of the feet called reflex points. It is based on the principle that these reflex points are related to internal organs and glands through the nervous system. We have more sensory nerve endings in the feet than any other part of the body.   The entire focus of the reflexology massage is to bring more life into the nerves of the feet and therefore more circulation to the entire body. Please note that reflexology is not meant to diagnose any medical conditions. It is a natural therapy that induces a deeply relaxed state which can help alleviate tension and  anxiety . That's why it has become one of the most popular services in our Louisville spa. If you love a good foot massage I encourage you to try out a reflexology session, 30 or 50 minute sessions are available or add on 10 minutes on your next 
spa pedicure
. Taking time to treat your self is always a good idea and I promise your feet will thank you.
CaloSpa Reflexology Specialist
Stephanie Hodges