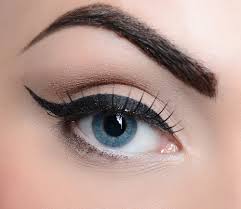 I offer permanent makeup and when I recently came across an article about how to achieve the perfect brow, it caught my attention.  It was very interesting to read how a thicker, fuller, and even longer brows are making a comeback.  Brows have always been a trend that continues to change to whatever celebrities are doing.  Usually my clients come in and bring me a picture of a celebrity and tell me that is how they want their brows to look.  I wish it was that simple to put whatever brow on any face shape but it's not.
We need to remember that it's not a one size fits all. I do find it helpful for clients to show me some shapes and a styles prior to having permanent makeup done on their eyebrows, however,  their choices may need to be modified for their facial shape.  A very important reminder that I tell everyone is permanent makeup should be to enhance your brows and frame your face. I once had a makeup artist from New York tell me that someone's brows should be sisters not twins and I couldn't agree more.  A misconception to most is that permanent makeup on the brows will look "painted on". I do personally feel that years ago it did have that look, but now just like everything else the technique has been greatly improved.  When I started doing this about 13 years ago I almost quit doing brows in the beginning because I was not a fan of the results.  With time I found better techniques and was able to create a more realistic and softer result.
When having brows done it is a 2 step process.  Meaning when you have them done the first time it will seem very dark or intense for about 3 to 5 days until they fully heal.  After that a more natural appearance will take place. It is so common after that process for one to feel they need more or even that their brows haven't taken how they want them.  A follow up visit is needed about 8 weeks later to fully complete the procedure. This is also something that with time will soften and lighten so on average it will require a yearly touch up to maintain.
CaloSpa Permanent Makeup Expert, Aesthetician – Dana Smallwood