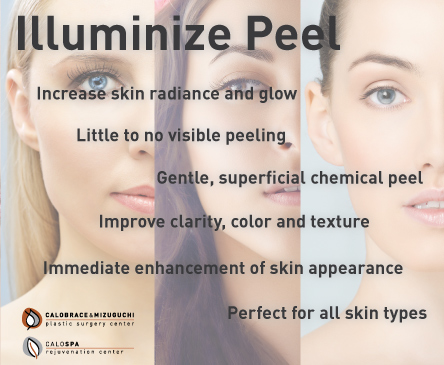 Being an aesthetician for the past 7 years has given me the opportunity to try several different chemical peels, and I love the Illuminize Peel. It is reliable, predictable and it is safe for all skin types. One of the features of this peel that I love is that you get the benefits of a chemical peel without any downtime or irritation.  This is especially nice if you have an upcoming event where you want to look your best.  This easy to tolerate peel will increase your skin's glow and radiance as well as smooth and improve your skin's texture.
After getting the Illuminize Peel, your skin's ability to absorb products increases, another favorite feature of mine. I definitely recommend using either TNS Essential Serum or TNS Recovery Complex after the peel and on a daily basis thereafter.  These serums both have growth factors in them, and if you know me, you know I love growth factors.  As we age our production and level of growth factors decreases resulting in impaired skin in the forms of fine lines, wrinkles and uneven tone.  When applying growth factors topically we reverse those signs of skin aging.  Growth factors help our skin repair itself like our skin did at a younger age.
Show your skin you love it with a combination of the Illuminize Peel and TNS Recovery Complex or TNS Essential Serum.   I promise your skin will love you back!
CaloSpa Aesthetician – Rachel Wood
Valentine's Day is quickly approaching and here at Calospa we have some lovely deals to help you look your best for that special day or any day for that matter!  You can give the gift of love to that special someone or yourself with a Calospa Gift Card.  From now to the 14th if you purchase a $100 gift card you will also receive a box of gourmet chocolates.  With a $500 gift card purchase you will receive a FREE Skin Medica Illuminize peel.  That is a $125.00 value!