The one. The only. SUPERSCREEN!
Did you know that UV rays aren't the only rays from the sun that age your skin? Just when you thought your sunscreen had it all covered – let me tell you there is a whole other ray that we have not been protecting our skin from!
SkinMedica has discovered a way to protect our skin from one of the most harmful rays, IR-A, or Infrared-A. These rays penetrate deeper into the skin than UVA and UVB rays. IR-A rays can cause signs of aging and penetrate the deepest into our skin. These IR-A rays can reach the subcutaneous layer and equal 54% of the sun's energy. Yes you read that right. 54% of the sun's energy.
SkinMedica has created the first and only rejuvenating superscreen and Calospa is one of the first to have this revolutionary product! Total Defense and Repair is a product that utilizes SOL-IR Advanced Antioxidant Complex to prevent the appearance of premature aging from chronic exposure to infrared. Not only does it provide comprehensive protection beyond UVA and UVB but it also supports the skin's ability to restore itself.
This chemical and physical superscreen has 3 different formulations to fit anyone's skin needs. It comes in a 34 SPF Sunscreen, a 34 SPF Tinted Sunscreen, and a 50+ SPF Sunscreen. This product is oil free so it is safe for all skin types and did I mention that everybody loves it? I can say from personal use that this product absorbs instantly, leaves ZERO residue, and does not have a greasy feel to it. Skin Medica has done multiple studies that show at 8 weeks of usage 90% of users say they saw an improvement in skin firmness, tightness, and elasticity.
Are you ready to purchase yet?
Visit one of our locations in Lexington or Louisville and be the first to experience the first and only SUPERSCREEN!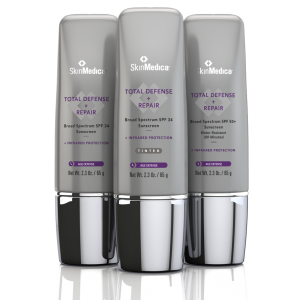 Brooke Stevenson, CaloSpa Aesthetician